Gluhwein#1
The first market we visited was one we had kept in mind since we first saw it in daylight hours on Friday. The square at the town hall was bedecked in light, the cathedral glistened like it was candle-lit, the trees drooped with glowing plastic hearts, cupcakes, violins and more, the stalls decorations reflected these lights and illuminated the giant Christmas tree with light. This is definitely one for the kids, but the background was just spectacular.
Gluhwein#2
Actually this was a warm-cider-punch kind of stop in a small bio-market in a side street in the town. Small, quaint and not as busy.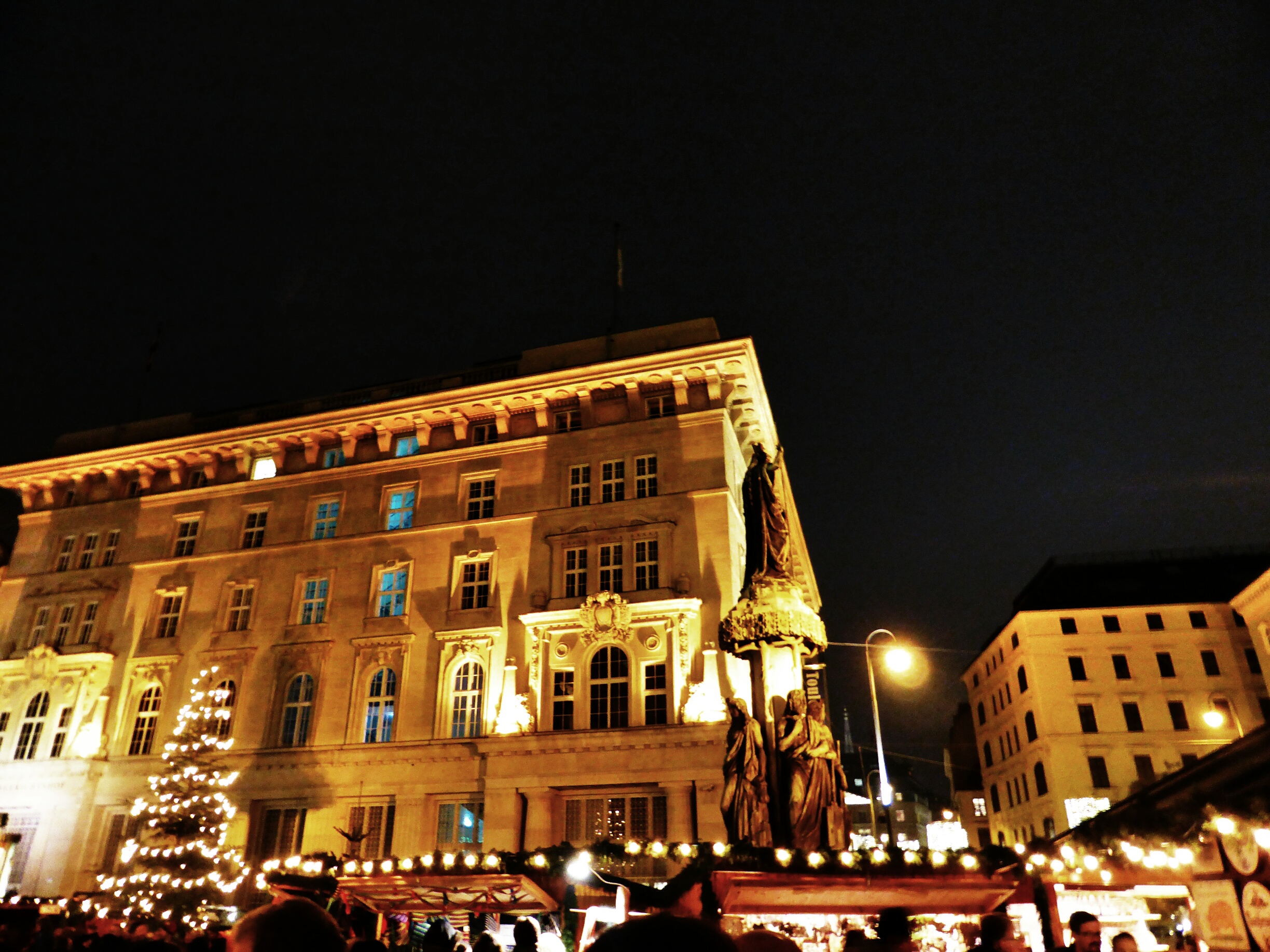 Gluhwein#3
Just around the corner from here is the "Hof market" which had a great atmosphere, wasn't too busy, had a lovely tree and some stalls which were selling things which were a little more individual than the other markets. For varietys sake I had a warm aperol (something I never thought I would say, in Italy its probably considered blasphemy) and while it tasted nice I probably wouldn't make it myself (maybe I just have too many fond memories of cold chilled spritz' in piazzas in Italy while the sun bakes down overhead). Neither was it the perfect accompaniment to the kase spatzle (kind of noodle-like things with heaps of cheese), but who am I to complain! The spatzle were drowned in so much cheese it was probably oozing out of my pores but that's the only way to eat them.
Gluhwein#4
We stopped off at the small white market in Michaelerplatz which looked pretty, but was quite empty with not a lot going on so we quickly moved on.
Gluhwein#5
This brought us back to the market between the museums from that afternoon where we had another Gluhwein in one of those cute boot shaped mugs. There was quite a bit going on but we were still left wondering where all the young-ish people had gone. Which brings me onto..
Gluhwein#6
the Museumsquartier where the Christmas "market" consists of various tents glowing with different colours in front of a projected polar bear background all acting as different bars. This was obviously where it was happening, at least for the University agers alongside a curling rink and a giant glowing ice-cubey thing. However, at this stage after almost five hours and six mulled wines we were ready to call it a night.
Gluhwein#7
but not after stopping by Ulrich a buzzing cafe/bar/restaurant for a flatbread dolloped with goats cheese and spinach for an incredibly delicious post-crawl snack. Along with another glass of wine. In hindsight it sounds like it was an awful lot of alcohol (of which I don't normally consume such amounts), thankfully soaked up by most of the carby food and helped by the short nap we had earlier, slow pace of the evening and an early nights sleep.
Reflections on Vienna Christmas markets
In terms of price, the drinks all cost similar amounts, the pfand/deposit on the mugs varies a little too but not by much. However, as evidence suggests (is it obvious I study science yet) each market has a different mug, and some are much cuter than others and therefore may happen to find their way into your handbag, although technically you did pay for them. The goods/toys/decorations they sell at the different markets are all pretty similar too, they vary between shiny baubles, wooden decorations, tea lights, festive toys, teddy polar bears, stars of all shapes and sizes etc. The Gluhwein doesn't taste much different – although this might have been the numbers talking, but its nice to be out in the cold with a warm drink surrounded by such a festive atmosphere. The only thing that was missing was some Christmas tunes. My favourite was definitely the one at Karlsplatz which we had visited on Friday night, the twin preferred the giant one at the town hall #3 (maybe, and shes going to kill me for saying this – if you read this just remember I love you – because this was the one where she didn't spill any alcohol.. 😉 ).